https://mycouriernews.com/articles/2020/01/3261/all-about-the-work-life-balance?fbclid=IwAR3vy5MVVNXNC4XydcUrZIlQgSbvMIomindtHfW8VKyS4yT1puUjxDzTxYk
Just 23, 'Rugged entrepreneur' starts his own mattress business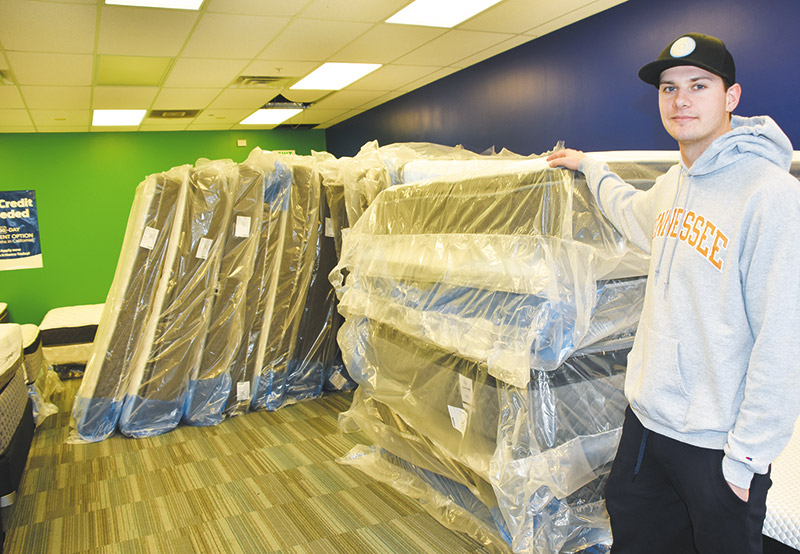 Brad Carter sells mattresses for his own start-up company, and considers himself to be a "rugged entrepreneur."
It's a long way from what he had in mind when he left the family farm where he grew up near Johnson City to head off to college at the University of Tennessee in Knoxville.
Now, at age 23 and having just graduated from UT with a degree in agricultural business, he's running nothing close to an agricultural business.
Last July, he founded BoxDrop Mattress of Clinton, a business in which most sales are from appointments set through social media — even though he has a storefront in the Tanner Place shopping center, between a hair salon and a nail salon.
"I've had a few walk-in customers, but that's pretty rare," he said while sitting on one of his mattresses in the store late last week.
Carter got the idea from a friend who opened one of the stores in Johnson City. There is also one in Knoxville that belongs to a different owner.The store is so bare-bones that Carter has no desk or chairs – only mattresses displayed on the floor or stacked up against the walls in the showroom and in the storeroom in the rear. His "desk" is an upturned cardboard box.
There's no aggressive sales staff waiting to pounce on customers as they walk through the door. In fact, Carter is the store's only staff member.
"I do it all," he said. "I get the mattresses from the distribution center, haul them in by myself, sell them, and deliver them to the customers and set them up all by myself."
Selling just 25 sets of mattresses and box springs or platforms each week is enough for Carter to make a healthy profit, even though he says his prices are generally 50 percent to 70 percent off the typical retail prices people would pay in mattress and furniture stores.
He also has plenty of time off, which is one of the pluses that drew him to the BoxDrop mattress concept, marketed by Dublin, Ohio-based Retail Service Systems since its inception in 2013.
According to Inc. magazine, it's been among the top 20 percent of the fastest-growing companies in the U.S. since 2018. It now has licensed dealers like Carter in 44 states as the BoxDrop brand "has exploded on the marketplace," according to a recent article in Business View magazine.
"It's all about the work-life balance," Carter said, adding that his friend who started a BoxDrop Mattress store still has time to "play golf three or four times a week."
Retail Service Systems, founded by Scott Andrew, is based on "the concept of promoting the good old-fashioned entrepreneurial spirit" to create what Andrew calls "rugged entrepreneurs," the Business View story said. The company even has its own National Training Center in Jacksonville, Florida, where store owners go twice a year to learn more about the business.
There actually are four separate business models under the BoxDrop name – the basic BoxDrop Mattress, which is what Carter is doing; BoxDrop Mattress and Furniture, which adds furniture to the mix; BoxDrop Sofa, which sells couches; and Super BoxDrop, which combines retail mattress sales with a wholesale distribution warehouse for BoxDrop owners.
It's from one of those centers, in Shelbyville, Tennessee, where Carter gets a load of new mattresses each week.
Carter said more than 100 new BoxDrop locations opened across the U.S. in the past year. Each sells the BoxDrop private-label brand, made by a large and well-established manufacturer, as well as name-brand products from Simmons, Serta, Lane, Sapphire Sleep, Steve Silver, Beauty Rest, Royal Heritage, Parker House, Crown Mark, Protect-A-Bed, Kith, Leggatt & Platt, Perdue, Klaussner, New Classics, and Coaster.
The deal that attracts customers the most, Carter said, is a queen set of pillow-top mattress and box springs for just $150. He hopes that offer will lead the customer to move up to something more expensive and of a higher quality – "but still 50 to 70 percent off regular retail."
Carter even offers 90-day financing with a $50 up-front payment, through a third-party lender, with no credit approval required.
BoxDrop store owners are tapping a huge market – with the furniture and bedding industry accounting for more than $100 billion a year in total sales.
They can offer bargain prices because of their low overhead, which is kept down by limiting staff and staying away from high-price locations. Carter works out of his small storefront and a nearby storage unit, and delivers his products using a trailer he pulls behind his car.
The service is fast, too, he said.
"I had a customer this morning who came in at 9, and by 10, I had already delivered and set up the mattress."
Advertising is kept simple and cheap, as well, using mostly free Facebook Marketplace ads, he said.
Another big plus is the start-up cost, which Retail Service Systems said varies from about $10,000 to $15,000 for a BoxDrop Mattress location with an exclusive service area.
Oh, and the other big plus: "I don't have to pay any franchise fees," Carter said.